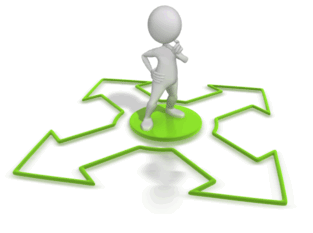 Transitions are pivot points in life.  Some changes we can anticipate and control, while others happen with little or no warning.   This passage to a new normal can take longer than anticipated and is often stressful and confusing.  The challenge is to uncover opportunities in the midst of it all.
Studies have shown that decisions are impacted by personal experiences, biases, and emotions. Avoidance, regret, fear of loss, scarcity, greed, over-confidence, anxiety, stress–all can lead to poor financial decisions and outcomes.
Traditional financial planning focuses on solutions for a given set of assumptions by addressing the technical issues of investing, cash flow, risk management, taxes, and estate planning. Most planners react to a client's discomfort and lack of direction simply by assuming what the client needs.
Personal planning requires a thoughtful and curious approach, without the interjection of biased assumptions into the client's situation.  Personal planning challenges the client to reflect, which can reduce the emotions stirred by change. This more thoughtful approach develops a touchstone for making confident decisions when presented with technical options.
In short, technical planning provides analysis and recommendations, which are only as good as the underlying assumptions. Personal planning is the most efficient means to define direction and priorities in order to tailor assumptions.
Success is not final; failure is not fatal: it is the courage to continue that counts.
-- Winston S. Churchill
When change is anticipated, planning can lessen the emotional intensity and duration of the transition.
When change is sudden, planning can provide structure to help you focus forward while cherishing the good from the past.
Whether sudden or anticipated, planning helps you think, which enables you to gain clarity and confidence, all of which serves as a touchstone for sound financial decisions.
Ending is an event that is imminent, happening or that just happened. It is a point of no return, anticipated or not.  Ending is a loss:  of a person, a relationship, decades of work, even the loss of a simpler lifestyle–as might be the case when receiving a lucrative severance package, business sale proceeds, an inheritance, or lottery winnings.  It may not be obvious, but there is almost always some degree of grief and shock with an ending, coupled with varying degrees of anxiety and confusion.  The result can be mental and emotional exhaustion, paralysis, or over-reaction. When change can be anticipated, planning can lessen their magnitude and duration.  When the change is sudden, planning can help pick up the pieces as you move forward.
Ending involves change management.  Acceptance and the search for clarity, meaning and direction facilitate a movement along a thoughtfully-designed path.
Passage is a period of adaptation. You may think your life should be settled by now, and a lot of it is, but there are still parts that aren't quite right. Passage is a time of thinking about the new and old pieces of your life, and fitting them together in a way that makes sense for you. This naturally creates certain tension and stress. The good news is that stress can be harnessed to help heighten awareness, enhance mental toughness, increase meaning and deepen relationships.  Your pace through this phase is based on the time you need to move from reaction to thoughtful contemplation of options.  You may be tempted to rush through it, but this won't serve you well.
Passage should take as long as you need to reach a point of clarity, energy and enthusiasm to move forward.
New Normal is a successful integration. This does not mean there won't be challenges or problems. What it does mean is that change is embraced and obstacles used as stepping stones to new opportunities.
New Normal is marked by renewed energy and confidence about the future and one's ability to thrive and make good decisions.

Financial Transition Specialization