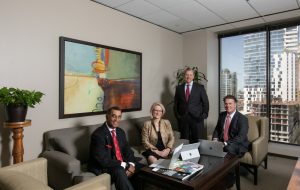 The wealth management services at MBR Financial in Houston, TX, are multifaceted, balancing financial planning, asset management, and risk.  Each client has their own unique circumstances, priorities, and time-horizon.  We listen to understand your individual needs, preferences, communication style, and desired pace.  We ask thought-provoking questions to help you refine and articulate your desired path.  Our process enables us to deliver sage advice that aligns your money with your heartfelt intentions.
Over time, life changes cause your priorities to change, resulting in a misalignment of previous wealth management strategies.  Marriage, divorce, births, deaths, career changes and retirement, are all major life changes which are key inflection points where we can help you realign your wealth strategy to better serve you going forward.
Envisioning the bigger picture enables you to prioritize and efficiently allocate your time, talent, and money.  At MBR, we listen and ask thought-provoking questions to help you ponder and articulate what is most important.  We then focus on the most relevant issues and provide options to empower you to make well-thought-out financial decisions.  At MBR Financial, our wealth management services not only address your concerns but also uncovers opportunities for improvement that may have previously been overlooked, as well as potential weaknesses so that risks can be mitigated in advance of a crisis.
At MBR Financial in Houston, TX, our consultative process focuses on you and what is most important to you.  Financial advice, strategies, and investment options need to be tailored to you to reap the most benefit.   Our top priority at MBR Financial is helping our clients make educated financial decisions equipped with an understanding of options that support their priorities and maintain flexibility to meet the challenges that change brings.
As Fiduciaries, MBR Financial puts your interest ahead of our own at all times.  We go above and beyond the financial services industry standard, defined by the SEC Best Interest standard that stipulates: "Regulation Best Interest only applies at the time of a recommendation of any securities transaction or investment strategy" (SEC Release No. 34-8603 1347-8).  Our focus is to serve our clients first in all that we do, not just at the time of an investment recommendation.  We are proud to say that, with our continuous and comprehensive approach, our watchfulness never ends.
MBR Financial believes that wealth is about having the financial means and freedom to live a meaningful and rewarding life.  We view wealth management as an ongoing process to help clients manage their finances to support the life endeavors which matter most to them now and in the future.
With change comes opportunity, if you know where to look.  With our wealth management services at MBR Financial in Houston, TX, we challenge you to look beyond what is to what can be.  Let MBR Financial show you how we can help you realign your wealth management strategies to better support your life changes and cultivate a secure future.
To get started, simply give us a call at (832) 667-8787.
Plan · Nurture · Grow
Financial Advice as Life Changes to cultivate a secure future
Planning · Investment Management · Risk Mitigation
Wealth Management Services Houston, TX