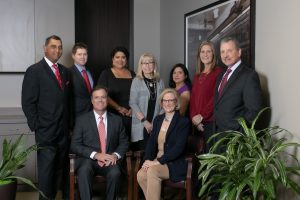 Wealth Management encompasses asset management, financial planning, and risk management.  While many firms work in one area alone, the wealth management advisors at MBR Financial in Houston, TX, integrate all three, resulting in a coordinated, well-thought-out strategy, which improves your probability of success.
At MBR Financial, we have found that each wealth management discipline is independent.  For example, investment risk in isolation tests your impulse to make decisions based on fear and greed and may result in an investment portfolio too conservative to maintain your lifestyle.  Or, your portfolio is so aggressive you exit the market near the bottom and fear re-entry.  At MBR, we use planning to empower you to understand the interdependence of your spending and your investments, the short and long-term impact of inevitable market downturns, and how to alter the outcomes with different allocations or strategies. As a result, planning gives you a more thoughtful and less reactive way to ride through the ups and downs of the investment markets.
MBR Financial wealth management is a comprehensive approach to discover the lifestyle you envision and align your finances to realize it.  We do not assume what you want or need.  Rather, we remain curious and ask questions that make you think about what you want to preserve or transition to what ultimately impacts how you earn, use and invest your assets.   You remain an active participant in the analysis and evaluation of options, benefits as well as risks.  Our approach empowers you to make confident and sound financial decisions that support your vision.  MBR implements your financial decisions and actively monitors your progress.
The experienced wealth management team at MBR Financial in Houston, TX works with families, executives, professionals, and business owners.  Our top priority at MBR Financial is to help our clients make informed financial decisions when it comes to wealth management.  Our clients value the integrity, commitment, and personalized approach that have been the cornerstone of our success.
At MBR Financial, we're fiduciaries, which means we put your interests ahead of our own at all times.  We're dedicated to being your advocate when you encounter life changes.  We're committed to remaining inquisitive as we listen to you.  We do not interject our own biases by assuming what you need or want.
Our process at MBR educates you so you can make judicious financial decisions.  We help you understand the benefits and consequences.  We help you "try on" various solutions to determine what fits you.  We show you how to create flexibility into your plan.  We encourage you to proceed at your own pace. We implement your decisions.  Life changes, and so must you.  MBR inquires as to changes in your circumstances and suggest modifications to your plan, accordingly.  We also monitor your financial assets and keep you informed as issues arise.
A committee of seasoned investment professionals leads our wealth management investment process at MBR Financial.  Our external members, expand the breadth of experience of our internal team members to vet emerging trends and identify shifts in business industries.  The asset allocation between stocks, bonds and cash is dynamic, based on market and economic risks, which enables us to preserve capital in down markets and redeploy later.
MBR compensation structure aligns our interest with yours.  We are fee-based, and we utilize individual stocks, low-cost ETFs, and no-load or load-waived mutual funds.  At MBR Financial in Houston, TX, wealth management is a disciplined process integrating asset management, financial planning, and risk management.  We specialize in financial advice as life changes to cultivate a secure future.  For more information, call us at 832-667-8787 for a free initial consult.
Plan · Nurture · Grow
Financial Advice as Life Changes to cultivate a secure future
Planning · Investment Management · Risk Mitigation
Wealth Management Houston, TX