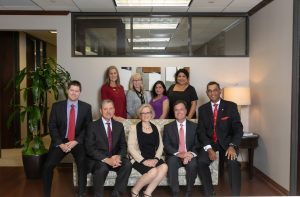 A retirement financial advisor does more than invest your money.  At MBR Financial in Houston, TX, our retirement financial advisors help you consider many aspects of your retirement, including but not limited to timing of retirement, level of lifestyle, income tax minimization, risk mitigation, investment, and income distribution strategy.  While many "plan" for retirement, few truly address some critical risks which can derail your retirement.
Retirement is not an event, rather, it is a transition, which can be gradual or sudden, voluntary or involuntary, anticipated or unexpected.  Unplanned early retirement cuts short savings, and investment distributions begin earlier, which can be a big hit to your retirement savings.  Early retirement risk is more common than most people think.  Half of all workers age 50 or older involuntarily leave their jobs, according to a recent study by the Urban Institute, a Washington, D.C. think tank.  Corporate reorganizations, mergers & acquisitions, health issues, or a pandemic can alter your retirement timing and cause unplanned financial setbacks.  According to the Pew Research Center, with the Covid-19 pandemic, we saw 28.6 million 56 to 74 year-olds retire in the third quarter of 2020, 13% higher than the same quarter in 2019.  Planning with a retirement financial advisor at MBR Financial can make a difference to your retirement with the flexibility to handle the unexpected.
Retirement is not a permanent vacation. The loss of social connections, meaningful work, and recognition are not often thought about until they've ended.  Part of retirement planning is to address how you will derive satisfaction and happiness in your golden years, which defines how you intend on spending your money and how much you will need.  Experienced retirement financial advisors at MBR Financial in Houston, TX, ask questions that challenge you to think about what you want in this next chapter of your life which becomes the foundation of your plan.
Taxes reduce your savings.  While you are obligated to pay your fair share of taxes, you have a right to structure your financial affairs to minimize the tax burden.
Personal income tax planning involves maximizing retirement accounts (traditional and Roth), utilizing tax-sensitive management and income distribution strategies for non-retirement accounts, and deploying various charitable entities when appropriate. Tax planning should be tailored to your circumstances and coordinated with other financial aspects to avoid unintended consequences such as unintentionally triggering higher Medicare premiums.
Estate taxes change over time. While currently, estate taxes do not impact most people, there is legislation that can affect many.  There are ways of structuring your estate to be more income tax efficient for your heirs.  Estate planning is about structuring your affairs in a manner that benefits those you want to take care of when you are gone.  A retirement financial advisor at MBR Financial helps you develop a strategy that carries out your wishes tax-efficiently.
At MBR Financial in Houston, TX, our retirement financial advisors help you identify strategies appropriate for your situation to reduce your tax burden while saving for or in retirement.  MBR combines financial expertise and purpose-based planning to bring you clarity for where you are today and your path forward.  MBR offers strategies and coaching that address your individual needs, align your finances with your version of success, and empower you to make informed and confident financial decisions.
MBR is a Fiduciary, which means we serve your best interests always.   We believe collaborative planning has the power to improve lives by supporting dreams with thought-provoking discussions, modeling options, and mitigating risk.  Structuring your money with your defined purpose enables you to live a life of significance and fulfillment.
Let us be your retirement financial advisors at MBR Financial in Houston, TX.  Call us at (832) 667-8787 to schedule a free initial consultation.
Plan · Nurture · Grow
Financial Advice as Life Changes to cultivate a secure future
Planning · Investment Management · Risk Mitigation
Retirement Financial Advisors Houston, TX