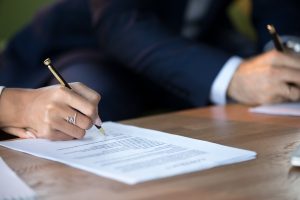 MBR Financial in Houston, TX works with couples regarding prenuptial agreements.  Said agreement is a legal document signed by a couple before marriage to address the division of assets and income upon divorce or even death.  The contract specifies the value and distribution plan of current income sources, debts, and assets, such as bank accounts, brokerage accounts, real estate, businesses, and personal property. Prenuptial agreements address distribution upon divorce and can define distributions at death when there are more complex circumstances.  For example, when there are children from a prior marriage or complicated financial assets such as a family business, addressing distributions at death in a prenuptial agreement may be helpful.  One can unilaterally change a will, but a prenuptial agreement requires mutual consent.
Even when a prenuptial agreement is needed, many people are reluctant for fear that it will cause the pre-marital euphoria to turn to anxiety, suspicion, and mistrust. Moreover, focusing on a divorce settlement makes the negotiation contentious, whether done before marriage or not.  Of course, it doesn't have to be this way, but it often is.
MBR Financial in Houston, TX realizes that aversion to prenuptial agreements causes many people, even those who do not need such contracts, to shy away from having meaningful money conversations before marriage.  Misaligned expectations about money are among the most significant stressors in a marriage and often a significant factor in divorce.
We all have our own money story.  We are a product of our life experiences and messages from our parents and other influential adults. Whether money was abundant or scarce, whether money was discussed or avoided, direct and indirect messages formed us in our youth.  We either adopt the same beliefs or their opposite, but with the same degree of fervor, which becomes the basis of how we earn, spend, save, invest, and share our money.  In the absence of meaningful communication, it is human nature to assume that your beliefs are shared, or at least understood, by your partner. This fallacy leads to problems later when unaddressed differences come to light.
In place of money discussions, many couples agree to keep their finances separate and split expenses.   While maintaining separate accounts and responsibilities can be expeditious and straightforward, it often masks problems that eventually surface.  Effective communication and resolution of differences about money before marriage also help couples develop healthy habits, which will help them resolve other complex non-monetary issues that arise.
Money discussions are best done together, along with a financial advisor trained in facilitating such discussions.  Together, you will establish understanding and agreements, some of which may be appropriate to document in a prenuptial agreement; others will form a basis for how you will make money decisions from now on.
Share your money story.
Discuss your current values and beliefs about money.
Decide how you together intend to earn, spend, save, invest and share your money.
Discuss the current and future needs of your children, parents, siblings, nieces, and nephews and your thoughts on what responsibility you intend to assume together.
Determine how you will take care of each other in the event of disability, death, or divorce.
With prenuptial agreements, MBR Financial in Houston, TX works with engaged couples to help them deliberately choose how to spend, save, invest and share their money.  This includes how they will take care of each other and family in adverse circumstances.  A prenuptial agreement need not be contentious if developed in the proper context.  At MBR Financial in Houston, TX, we support you in your transition to marriage and help you determine how you will make money decisions and take care of each other together.  Call us at (832) 667-8787 to schedule a free initial consultation.
Plan · Nurture · Grow
Financial Advice as Life Changes to cultivate a secure future
Planning · Investment Management · Risk Mitigation
Prenuptial Agreements Houston, TX