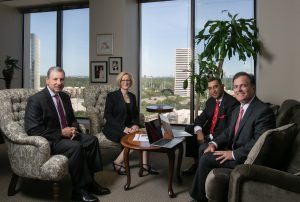 Investment management services at MBR Financial in Houston, TX involve more than just investing your money – it's all part of a comprehensive consultative process.  Our services include spending time to listen and understand where you're at and where you want to go.  We ask questions to help you think about and articulate what's most important to you.
In the design process, MBR models cash inflows and outflows to better understand your needs from one year to the next.  We consider income, growth, taxes and risk tolerance. We propose options to align your money to help you realize your vision, and work closely with you to find the right fit. We help you understand the short and long term impact of various options.
MBR Financial works at your pace and present information the way you want.  Some make decisions quickly, while others need more time to process information and options.  We make sure you understand the advantages and disadvantages of options, and provide information in a way you're comfortable with.  Whether you prefer graphic illustrations and charts, thorough discussions, robust modeling with spreadsheets, or some combination, we tailor our services to you.
Investment management services at MBR Financial in Houston, TX include periodic reassessment to align your finances and investments with any new circumstances.  Personalized analysis and planning are never static.  Life changes call for reassessments.  Marriage, divorce, changes in employment, birth of a child/grandchild, retirement, and death of a spouse – all require a new look at how they affect your priorities, needs and wishes.
While investment markets may seem to be random and volatile, various sector trends can trend in the same direction for extended periods.  Still, shifts and event driven changes do happen.  Our Investment Committee strategizes to recognize changes as they develop.
Our investment management services at MBR Financial in Houston, TX recognize that there are different levels and types of risk. Managing risk is an important component of investment management.  There are certain circumstances when the upside potential is high and the downside risk is low which favors leaning your portfolio, within a given range, to higher growth investments. At other times, downside risk can be too high, necessitating a more conservative approach. Our Investment Committee assesses the levels of risk and we adjust our clients' portfolios accordingly.
At MBR Financial, we are Fiduciaries.  This means that we put your interest first at all times.  Our fiduciary duty covers our entire relationship with you, from monitoring your portfolio to giving you the best advice we can.  What's more, we strictly maintain the confidentiality of your information.
MBR Financial goes beyond what's required of most advisors.  In the investment industry, many are held to an SEC Best Interest standard that stipulates: "Regulation Best Interest only applies at the time of a recommendation of any securities transaction or investment strategy" (SEC Release No. 34-8603 1347-8).  That's all well and good, but at MBR Financial, we monitor your investments far beyond mere "time of recommendation."  We are proud to say that our watchfulness never ends.
Investment management services that are robust, dynamic and personalized — now and in the future — are what we do best at MBR Financial in Houston, TX.  We design and implement a strategy to grow and protect your savings to support your lifestyle.  Find out more by calling us at 832-667-8787 to schedule a free initial consultation.
Plan · Nurture · Grow
Financial Advice as Life Changes to cultivate a secure future
Planning · Investment Management · Risk Mitigation
Investment Management Services Houston, TX