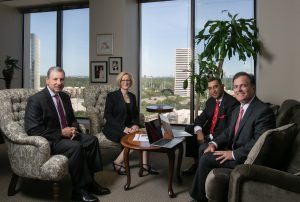 MBR Financial in Houston, TX helps clients establish and manage an investment management strategy that balances income, growth, and risk.  Growing and protecting your nest egg is our passion at MBR.
What is investment risk?  Risk is the potential financial loss inherent in an investment.  All investing involves some degree of risk.  Volatility risk, or price fluctuation, is most commonly considered.  There is also business risk that a particular company could experience unfavorable events that cause financial stress or even bankruptcy. Inflation risk refers to the erosion of your purchasing power when receiving a fixed interest rate from a bond or money market.  Interest rate risk affects the value of bonds with an inverse relationship; that is, when interest rates rise, the value of the bond falls.  Because you cannot eliminate all risk in investment management, MBR helps you to: understand the risk vs. return tradeoffs; consider your needs vs. risk tolerance; and develop strategies to manage and mitigate risk.
MBR Financial believes that no one has a monopoly on good investment ideas.  Investment management is a discipline with many facets.  That is why we have an Investment Committee comprised of seasoned professionals inside and outside our firm.  Vetting investment ideas, strategies, and opportunities are crucial for sound investment decisions. Our external committee members expand our knowledge base regarding geopolitical and economic factors, sector rotation, and hedging risk with alternative investments to enhance investment management.
The investment management process at MBR Financial in Houston, TX adapts to changes in the market.  Many investment advisors use a "buy and hold" investment management strategy.  That's fine as far as it goes, but markets morph, and no single approach can perform in all conditions.
MBR Financial modifies our portfolios in the following ways:
Asset Allocation: We over- and under-weight stocks, bonds, and cash, to alter risk in client portfolios based on market conditions.  When stock risk is low versus relative potential return, it is advantageous to increase stock holdings.   When the opposite conditions are present, cash and bonds are more favorable.  We use a 6-18 month strategic outlook to avoid making too many or too few shifts.
Themes: Timely identification of themes – such as artificial intelligence and robotics, healthcare technology, and iCloud companies — add to portfolio performance.
Styles: Various segments of investment markets perform differently, depending on economic conditions. We adapt portfolios by over- and under-weighting large companies vs. small, domestic vs. international; high- vs. low-quality bonds; and long-term vs. short-term bonds.
Selection: We deploy a disciplined quantitative and qualitative due diligence and selection process to identify stocks, exchange-traded funds (ETFs), and no-load or load-waived mutual funds that best represent identified themes and market outlook.
We are Fiduciaries at MBR Financial.  As a fiduciary, we put your interest ahead of own at all times. We maintain the confidentiality of your information. We practice due care in our judgment, prudence, and determinations.  As a Registered Investment Advisor, MBR Financial adheres to a fiduciary standard covering our entire relationship with you, including monitoring and on-going advice.  You may think all investment professionals do the same. You might be surprised to learn that many are held to a Best Interest standard.  The issue here is that, according to the SEC: "Regulation Best Interest only applies at the time of a recommendation of any securities transaction or investment strategy" (SEC Release No. 34-8603 1347-8).  We monitor your investments far beyond mere "time of recommendation."  In fact, our watchfulness never ends.
MBR Financial in Houston, TX will design and implement a dynamic investment management strategy to grow and protect your savings to support your lifestyle.  Find out more by calling us at 832-667-8787 to schedule a free initial consultation.
Plan · Nurture · Grow
Financial Advice as Life Changes to cultivate a secure future
Planning · Investment Management · Risk Mitigation
Investment Management Houston, TX