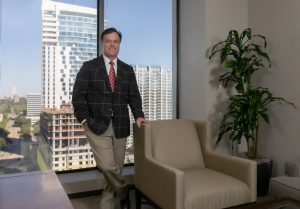 Most people who recognize a need for financial planning anticipate or are in the midst of a major life change.  At MBR Financial in Houston, TX, we specialize in financial planning.  Marriage, death of a spouse, sale of a business, or retirement can significantly impact how you earn, spend, and save your money.  Life transitions also create stress.  Experts tell us that stress diminishes your ability to think clearly and logically. Decisions made in periods of heightened stress unwittingly focus on relieving the immediate discomfort without considering the long-term consequences.  So, when anticipating or experiencing major life changes, sound, objective counsel helps re-engage your thinking, evaluate trade-offs, and make decisions that will serve you well.  While intuitively, you may recognize a need for good counsel, you may not know who you can trust.
At MBR Financial, we listen and ask thought-provoking questions. This process allows you to ponder and ultimately articulate your priorities and the direction you want to go.  For those who have given thought to the issues and the direction they want, it serves to focus us on the most pressing problems first.  However, for most in the midst of major life changes, deciding on priorities and direction requires more time.  At MBR Financial, we remain patient, maintain flexibility, and help each client progress at their own pace.
Financial planning involves subjecting your income, expenses, and investments to careful analysis, projections, stress testing, and risk assessments.  MBR Financial has found that some clients like to dig into details and numbers.  Others want to focus on the big picture.  They depend on us to crunch and interpret the numbers, summarizing our findings in graphs, charts, and one-page summaries.  Whichever way you like to receive information, MBR Financial gives you sound advice and options to support your vision.  We track your progress by recapping discussions, observations, recommendations, and listing actions to be taken.  We take on the number crunching, analysis, and even menial tasks to save you time and free you to make critical decisions.
With change comes opportunity, but you often need to look for it.  So we challenge you to broaden your horizon, assist you while you consider what's possible, then help you forge a path forward to realize it.  What differentiates MBR Financial from other financial planners is our experience with the decision-making process during major life transitions; our willingness to look beyond the status quo to help you consider what's possible; and our commitment to work at your pace.
Life transitions can be challenging.  MBR Financial is passionate about helping our clients through these transitions.  It's important, too, that we are Fiduciaries, obligated to always put the interest of our clients first.  Our "serve first" philosophy permeates everything we do.
At MBR Financial in Houston, TX, we specialize in financial planning.  We look forward to serving you as life changes to cultivate a secure future for you.   Find out more by calling us at 832-667-8787 to schedule a free initial consultation.
Plan · Nurture · Grow
Financial Advice as Life Changes to cultivate a secure future
Planning · Investment Management · Risk Mitigation
Financial Planning Houston, TX