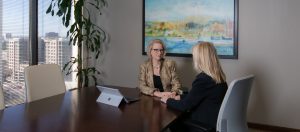 Divorce is a major pivot point in life.  You know your life is changing but you're not sure how.  Emotions are heightened — probably more than you have ever experienced.  No matter how educated and competent you are, your ability to think clearly and make sound decisions can shut down when faced with extreme emotions.  Yet, you know you have to make financial decisions that will impact the rest of your life — issues regarding the divorce property settlement, where you will live, how you will align your expenses with the changes to your income.  You are experiencing a death of a relationship, but with a divorce, you do not have the time to grieve before you need to make life-altering financial decisions with less income and a reduced net worth. Who understands what you are going through and what you need?  Who can you turn to for help?
Each certified divorce financial analyst (CDFA) at MBR Financial in Houston has specialized training to help you navigate money issues before, during, and after divorce.   Investments, property, and businesses add complexity to divorce.  MBR Financial provides the analysis and creative solutions you need most during a very stressful period to help you avoid big financial mistakes.   
A certified divorce financial analyst (CDFA) at MBR Financial can be an essential part of your divorce team but does not replace an attorney and cannot provide you with legal advice.  A CDFA equips you and your attorney to understand the financial implications. A family business, retirement accounts, a pension benefit, company stock options, child support, alimony – all have complex tax and equitable division implications.  Understanding your options and the short- and long-term financial impact is critical to negotiating a property settlement that gives you the best possible financial foundation on which to move forward. 
At MBR Financial, our process brings financial structure, solves problems, and shows you how to get through this challenging period and even thrive.   Seeing the light at the end of the tunnel helps reduce your stress and anxiety, enabling you to make better decisions.
Establishing a post-divorce-financial life plan gives you a stable foundation and direction you need to move forward and flourish.  At MBR Financial, we have found that by listening, asking thought-provoking questions, and helping you "visualize" potential solutions, prepares you to make the decisions you need.  We use data visualization to summarize complex analysis, so it is easier to understand whether you are intimidated by numbers or just overwhelmed by your circumstances.  Our "keep it simple" process empowers you to move beyond heightened emotions to thought-based decisions that achieve sound long-term outcomes. 
The certified divorce financial analysts (CDFAs) at MBR Financial in Houston, TX will guide you to look beyond what is to what can be.  Let MBR Financial help you navigate money issues pre-divorce and post-divorce to support your life changes and cultivate a secure future for you.
To get started, simply give us a call at (832) 667-8787.
Plan · Nurture · Grow
Financial Advice as Life Changes to cultivate a secure future
Planning · Investment Management · Risk Mitigation
Certified Divorce Financial Analyst Houston, TX